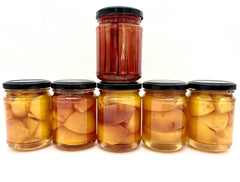 These days most households are trying to reduce food waste and live in a more sustainable way. Fruit and vegetable gardens are becoming more common, and Farmer's Markets provide an opportunity to buy fresh seasonal produce. Preserving your surplus harvest for a rainy day goes hand in hand with this sustainable approach.
Well known author and journalist Indira Naidoo has become famous for her balcony garden producing 70kg of fruit, vegetables and herbs in its first year. That's a lot of produce to consume for one person. Preserving would have been the perfect answer.
When most people think of preserved fruit, they probably have memories of their grandparents bringing out jars of peaches or plums they had grown in their own garden. I remember this as a child, my grandmother always had beautiful, preserved stone fruit in winter when they were not available at the greengrocers. They were served with ice-cream, used to decorate a sponge or the filling for a warm crumble.
At APK we have launched a new sustainable no waste project. We are bringing back the art of preserving, jam making and pickling. We are calling on the community to support us by bringing in some of their surplus produce for us to preserve, pickle or make jam out of and in exchange we will give them a jar or preserves, pickles or jams.
Last week someone brought in a small bunch of rhubarb and some nectarines. We were not planning on making jams using those fruits, so we preserved them. The process is simple and can be replicated easily at home.
Check out our new range here
Preserved Rhubarb
Sterilise jars and lids
Wash and cut rhubarb to suit the jar size you have available. Try and make sure you cut the all the rhubarb the same size.
Place rhubarb in jar, pack firmly to prevent the fruit floating to the top. Once the fruit has been packed in jars make the sugar syrup.
Make sugar syrup with a  2:1 ratio. Every cup of water add ½ cup of caster sugar. Heat sugar and water in a saucepan until the sugar has dissolved. Then your sugar syrup is ready.
Immediately pour the hot sugar syrup into the jars, making sure the fruit is completely covered and there is a 1cm gap to the top of the jar. Place the lid on top.
Then place jars in a large pot with water covering the jars completely and boil for 15 min (up to 500ml size jars). To prevent the jars moving during this process place a tea towel in the bottom of the pot.
The fruit will have a shelf life of 12 months if kept in a cool dark place. Refrigerate after opening and consume within a week.