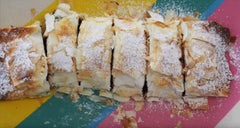 If pudding by itself is not your thing, there are some great ways to turn your pudding into other great desserts. A pudding strudel is a great way to get all the flavours of the pudding with layers of delicious filo pastry. Accompany with ice cream or custard.
RECIPE
1 x 500g Adamstown Pudding Kitchen Traditional Pudding
1 x cup prepared custard (or more if required)
1 x 375g pack of filo pastry
1 x egg
2 x tablespoons milk
icing sugar
Butter (melted)
METHOD
Break up pudding into large bowl and bind with custard. Lay out 5-6 sheets of filo pastry and brush with egg and milk mixture. Spoon pudding and custard mixture into the centre and fold up sides.
Brush melted butter on top and bake in a moderate oven (180 degrees) until folden brown.
Cool and sift icing sugar on top to serve.