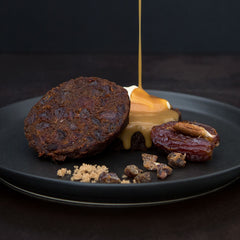 Originally pudding was a 14th century porridge called 'frumenty' that was made of beef and mutton with raisins, currants, prunes, wines and spices. It has since evolved into a delicious blend of fruit, alcohol and spices and served traditionally at Christmas. But who says pudding is only meant to be served at Christmas?
Adamstown Pudding Kitchen has a range of traditional and gourmet puddings that are the perfect dessert all year round. Chocoholics will love the Double Choc and Cherry pudding which can be served with a chocolate sauce and double cream satisfying any sweet tooth.
The Date pudding is perfect with our butterscotch sauce dressed with a scoop of ice cream and the Apricot and Ginger is just perfect on its own or with cream or ice cream.
Personally I can't resist the traditional with a side serving of custard and ice cream and when heated it warms the heart during the cooler months.
If you are entertaining and looking for a dessert to serve your guests, you can't go past the pudding range at Adamstown Pudding Kitchen.
Pop into the shop Mon–Fri or order online.